From The Suncoast News, September 19, 2007 (the electronic link is here)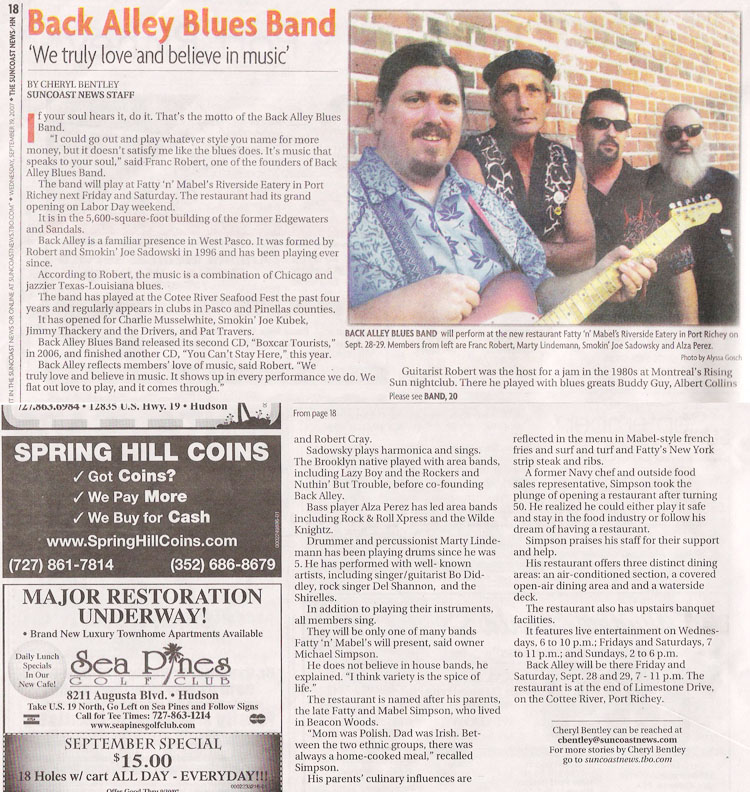 From Harpgear.com (Thanks Brian!!)
*** 9/08/07 ***
Tonight I had the pleasure of sitting in for a few songs with a great band from the Tampa area. They are the Back Alley Blues Band. They were one of the few bands I have seen in this area that are a true blues band. They were the type of band that makes it easy to sit in because they are so tight and with it. The harp player in the band is Joe Sadowski and he was a great player. They are the type of band that you can feel when they play. They're not just going through the paces on stage, they are into it and you can tell they have a great time doing it. Thanks again guys and I will see you again soon. If you are in the Tampa area or are coming here for vacation I really endorse this band as a must see while you are here.
It's summer time, and..The local bands are H-O-T-! ...Then, on Saturday (after a brief nap) the "Spotlight" fell on Back Alley Blues Band (Ouch, that could hurt), and it was a fun deal! Franc and The Boys are always entertaining, and they cover songs you never hear…and that's a GOOD thing! "Ain't Nobody Here But Us Chickens"? Hell yeah…
George Willett, Suncoast Blues Society Weekly e-mail, July 25th, 2007
"Last Friday was a high note at The Blue Note! The Back Alley Blues Band kicked off the first set with some lesser-played cover tunes (like J.B. Lenoir's "Mama, Mama, Talk To Your Daughter"), and generally rocked the house. Then they backed Roger "Hurricane" Wilson for a couple of hot sets with Roger and Franc Robert trading licks with abandon. The Damon Fowler Group showed up about 10:30 (they'd played an early gig at Skipper's), set up, and kicked it up ANOTHER notch! The last set started with Roger and Franc on guitar, Damon on BASS, and Dan Betts on drums. Back Alley's drummer then joined them...on HARP! After a couple tunes Chuck Riley took over bass duties, and we were treated to a no-holds-barred three-guitar throw-down!..
George Willett, Suncoast Blues Society Weekly E-Mail, June 6th, 2007
From "Le Cri Du Coyote" issue #94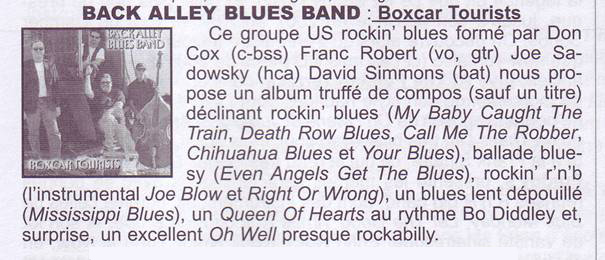 (Translated) This rockin' blues US group formed by Don Cox (c-bss) Frank Robert (vo, gtr) Joe Sadowsky (hca) David Simmons (beats) submits an album to us full of compositions (except a title) of classic rockin' blues (My Baby Caught The Train, Death Row Blues, Call Me The Robber, Chihuahua Blues and Your Blues) A bluesy ballad (Even Angels Get The Blues), rockin R'n'B (the instrumental Joe Blow and Right Or Wrong) a stripped-down slow blues (Mississippi Blues), Queen Of Hearts in a Bo Diddley beat and, surprisingly, the excellent almost-rockabilly Oh Well.
Band Credits
Festivals
Cotee River Seafood Festival-2004, 2005, 2006, 2007
Leesburg Bikefest-2007
Chasco Fiesta-2005, 2006
Cotee River Bikefest-2005, 2006, 2007
Hudson Seafest-2004
National & Regional Artists We have played with/opened for
Jimmy Thackery & The Drivers • Pat Travers • Lee Roy Parnell • Bill "The Sauce Boss" Wharton • Sean Chambers • Damon Fowler Group • Roger "Hurricane" Wilson • Corey Harris & The 5x5 Band •Smokin Joe Kubek & B'Nois King • Charlie Musselwhite
Venues we have played
Blue Note Lounge (Spring Hill FL) • Bourbon Street (New Port Richey, FL) • Boulevard Lounge (New Port Richey, FL) • Brew City Grill (New Port Richey, FL) • Cricketers (Hudson, FL) • Edgewater's (Port Richey, FL) • Fatty & Mabel's (Port Richey, FL) • The Frosty Mug (Hudson, FL) • Governors Lounge (Hudson, FL) • GT's Sports Bar & Grill (Hudson FL) • The Hawg Pound (Zephyrhills, FL) • Lady L's Supper & Blues Club (Homosassa, FL) • Mango Bay (Hudson, FL) • Mike's Friendly Pub (Crystal River, FL) • Osceola Tavern (Dade City, FL) • Piglets (Dunedin, FL) • T-Bones Pub (Brooksville, FL) • Palms Bar & Grill (Palm Harbor, FL) • R Beach Club (Homosassa, FL) • Sandal's (Port Richey, FL) • Saturdays Pub (Holiday, FL) • Shipwreck Lounge (Holiday, FL) • Slim & Chubbie's (Holiday, FL) • Skipper's Smokehouse (Tampa, FL) • Snappers (Palm Harbor, FL) • Sneaky D's (St. Petersburg, FL) • South Beach Club (Hudson, FL) • Trotti's (Safety Harbor, FL)