The Classic T (shown on the left) is available again for $8.00 plus shipping and handling. Available in Sport Grey, S-XL. Other sizes and colors by special order. The Vintage shirt (shown on right) is available for $8.00 plus shipping and handling. Available in Maroon (pictured), also Black, Navy, and Sport Grey available, S-XL. Other sizes and colors by special order.
From Bad Dawg Radio (www.baddawgradio.com)

"Hailing from Florida the Back Alley Blues Band has become a staple for the Sunshine State's blues aficionados. When Franc Robert (Guitar/Vocals) and Smokin Joe Sadowski (Harp/Vocals) teamed up in 1996 the backbone of the band was formed. Over the years members came and went, but in 2002 Don Cox (Bass) and David Simmons (Drums) the recipe for success was complete. In August 2004, the Back Alley Blues Band released their first full length CD. Their current CD, "Boxcar Tourists" is full of great music. We are airing "Call Me The Robber" on todays Blues Feed. It is only one of eleven great songs on this CD."
From "Le Cri Du Coyote" issue #94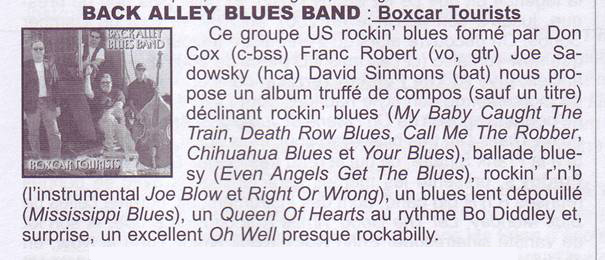 (Translated) This rockin' blues US group formed by Don Cox (c-bss) Frank Robert (vo, gtr) Joe Sadowsky (hca) David Simmons (beats) submits an album to us full of compositions (except a title) of classic rockin' blues (My Baby Caught The Train, Death Row Blues, Call Me The Robber, Chihuahua Blues and Your Blues) A bluesy ballad (Even Angels Get The Blues), rockin R'n'B (the instrumental Joe Blow and Right Or Wrong) a stripped-down slow blues (Mississippi Blues), Queen Of Hearts in a Bo Diddley beat and, surprisingly, the excellent almost-rockabilly Oh Well.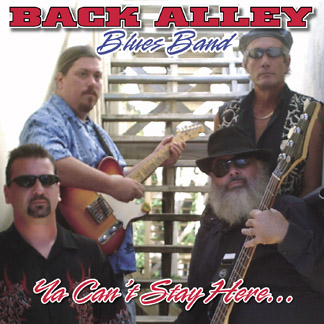 The NEW Back Alley Album is Here! Recorded in one day, "Ya Can't Stay Here" featured songs from our live set. The New Guys in the band are all over this album, Alza playing fatback bass and singing, Marty funkifying the skins and playing harp and singing on 2 songs. This CD is currently only available at our gigs-we might put it up at CD Baby in the future, if there is enough demand for it there...