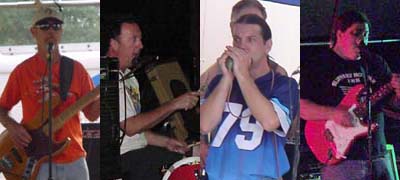 Photos by Vala Cox
DON COX-BASS/VOCALS
Don started playing in his native Virginia, where he played with the Home Cooking Band, amongst many others. since moving to Florida, Don has played with many local bands, including Ed Wright, Blue Dice, and Tom Bell and the Bellacasters.

DAVID SIMMONS-DRUMS/VOCALS
Don's running buddy for nearly 30 years, David also hails from Virginia, playing in many of the same bands as Don. Moving to Florida, David continued playing with Don and many others, including Cool Corporate Cats, Ton Bell, and Take It Back.

SMOKIN JOE-HARP/VOCALS
Originally from Brooklyn, NY, Joe started the way most musicians start, by being a "jam rat", eventually leading to gigs with Lazy Boy and the Rockers, and Nuthin But Trouble.

FRANC ROBERT-GUITAR/VOCALS
A Native Montrealer, Franc started playing in various bands throughout the 80's, hosting the popular jam at the famous Rising Sun Nightclub in Montreal, where he learned at the feet of many blues greats, including Buddy Guy, Albert Collins, and Robert Cray. Moving to Florida in 1990, he played in several bands before forming the Back Aleey Blues Band in 1996.